Luxury Vinyl Flooring in Kennewick, WA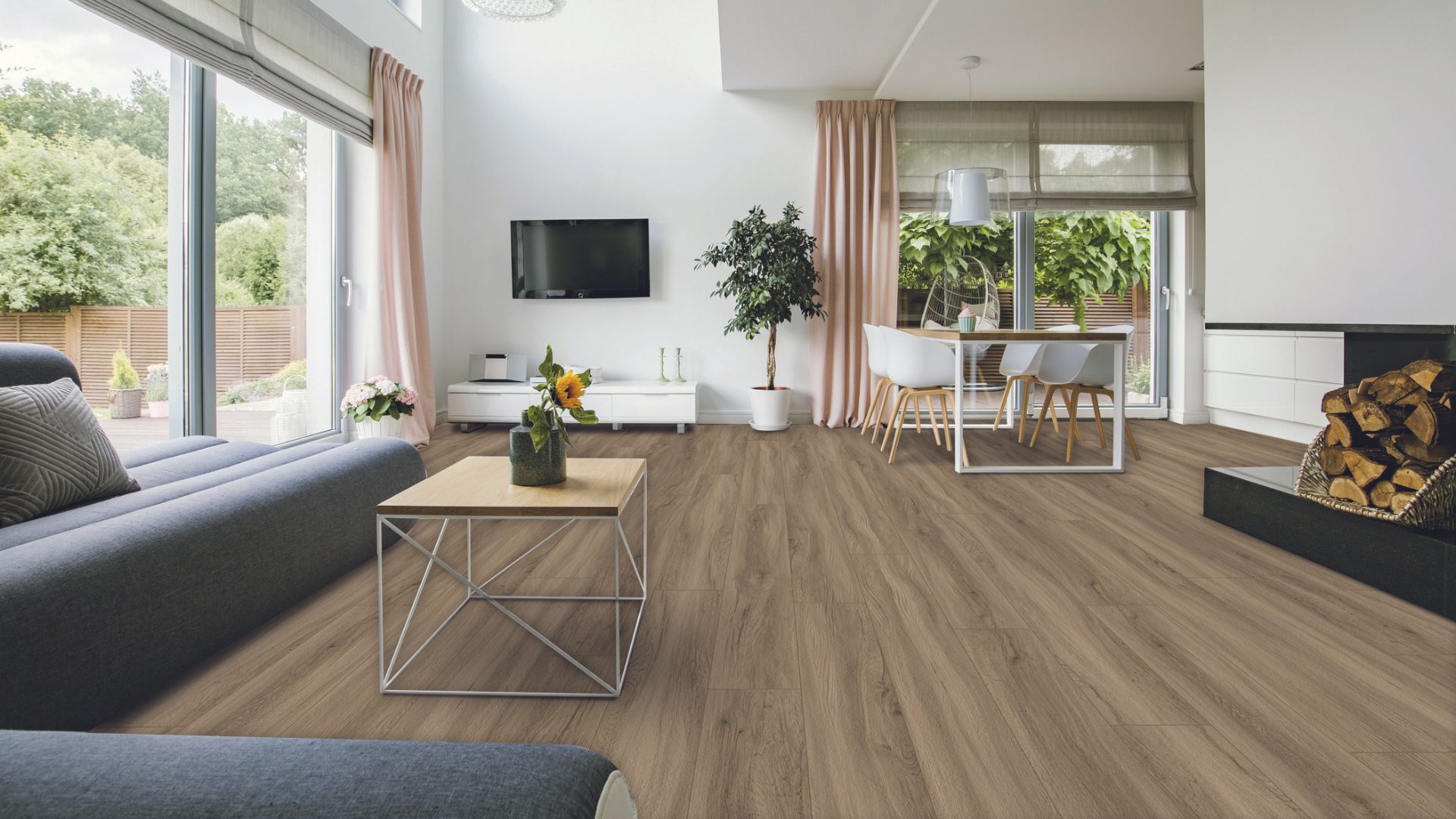 Embark on an exciting journey to redesign your home with the help of Rawlings Flooring America, right here in Kennewick, WA. Our expansive showroom is your gateway to a diverse range of luxury vinyl flooring options, from the timeless to the luxurious. Whether you're captivated by the radiant allure of mosaic tiles or drawn to the rustic charm of hardwood, our collection of luxury vinyl plank, luxury vinyl tile, vinyl sheets, and linoleum offers an array of choices that cater to your unique preferences.
Our knowledgeable flooring experts eagerly await your visit to our showroom, ready to engage in insightful conversations about the benefits of incorporating luxury vinyl floors into your residential or commercial spaces. With its remarkable durability, waterproof properties, and exceptional resistance to daily wear and tear, luxury vinyl flooring is a versatile contender replicating the elegance of genuine flooring materials such as hardwood and stone.
Thanks to our extensive network of nationwide stores, we wield significant purchasing power, enabling us to provide you with competitive pricing for the most distinguished brands on the market. We are dedicated to sourcing materials solely from high-quality manufacturers, a commitment that is underscored by our industry-leading warranties. Among our diverse inventory, you'll find many customizable patterns, colors, textures, and finishes for our luxury vinyl offerings and other flooring alternatives, allowing you to unleash your creativity and discover design possibilities that are uniquely yours.
In the heart of the Kennewick region, Rawlings Flooring America is your premier destination for transformative flooring solutions. Experience the difference today and make your living or working spaces a testament to exquisite design and enduring quality.
Discover Luxury Vinyl Flooring & Our Other Flooring Types
When you step into Rawlings Flooring America, you'll find an array of high-quality luxury vinyl flooring options that are bound to leave you amazed. We've got not one but three outstanding vinyl choices that are sure to catch your eye: luxury vinyl plank, sheet vinyl, and luxury vinyl tile. We also offer linoleum flooring solutions. These options are the real deal regarding blending durability and style, making them perfect for any room in your Kennewick home. Let's dive into the details and get better acquainted with these fantastic choices:
Luxury Vinyl Plank (LVP): Imagine capturing the timeless charm of hardwood floors without the hassle of constant maintenance or hefty price tags. Our LVP effortlessly replicates the natural patterns and textures of wood grain, adding a touch of warmth and elegance to your living spaces. This flooring isn't just about aesthetics - it's also designed to withstand water, making it a superb option for handling spills and everyday splashes. With its robust construction, it's built to retain its beauty for years, no matter what life throws at it.
Luxury Vinyl Tile (LVT): If your heart leans towards the allure of stone or tile, LVT is your perfect match. Offering a stunning resemblance to natural stone and tile flooring, it's ideal for moisture-prone areas like bathrooms and kitchens. The authenticity of its look and feel is paired with exceptional durability, providing you with a practical and budget-friendly luxury flooring solution that can meet daily life's demands.
Sheet Vinyl Flooring: Looking for seamless beauty and easy maintenance? Sheet vinyl floors are your answer. With its wide range of designs, it's a versatile choice that's perfect for any room in your home.
Linoleum Flooring: Embrace the timeless elegance of linoleum flooring. Crafted from natural materials, it offers an array of colors and patterns to match your style, adding a touch of classic charm to your space.
Experience the Advantages of Luxury Vinyl Flooring
Luxury vinyl floors open the door to a world of benefits that transform your Kennewick home. Here's why it's a smart choice:
Unmatched Durability: Luxury vinyl is designed to handle the demands of your busy life, ensuring a flooring solution that stands the test of time.
Elegant Aesthetics: Whether you prefer the warmth of hardwood or the sophistication of stone or tile, luxury vinyl effortlessly captures the authentic look you desire.
Water-Resistant Wonder: Say goodbye to worries about spills and moisture. Luxury vinyl's water-resistant properties make cleanups a breeze.
Variety of Styles: With an extensive selection of colors, patterns, and textures, you're empowered to craft your dream space without compromising on quality.
Easy Maintenance: Bid farewell to cumbersome upkeep routines. Luxury vinyl only requires simple cleaning to maintain its flawless appearance.
Comfort Underfoot: Experience the comfort of a softer surface that cushions your steps, making it ideal for households with kids and pets.
Expert Luxury Vinyl Flooring Installation
Once you've discovered the perfect luxury vinyl flooring for your space, our team is poised to make the installation seamless. While comparing products and gauging measurements, we ensure precise material orders, sparing you any concerns about sizes or quantities. Unlike attempting a DIY floor job that might result in visible imperfections, our skilled specialists guarantee a flawless installation that maximizes your new floor's performance.
Our installation scheduling is flexible to accommodate your availability, whether you're retired or leading a busy lifestyle. Rawlings Flooring America employs cutting-edge equipment for efficient installation, ensuring minimal disruption to your routine. With our commitment to excellence, we're confident in the quality of our work and offer an Adore Your Floor Guarantee. If, within 30 days, you're unsatisfied with our craftsmanship, reach out to us for complimentary repairs. Even if you reside in a historic or older home, rest assured that no space is too challenging for our team to rejuvenate – enhancing its allure while preserving its unique character.


Contact us today to get started with a free, no-obligation consultation. We proudly serve clients in Kennewick, Pasco, Richland, and surrounding areas.