Tile Flooring in Kennewick, WA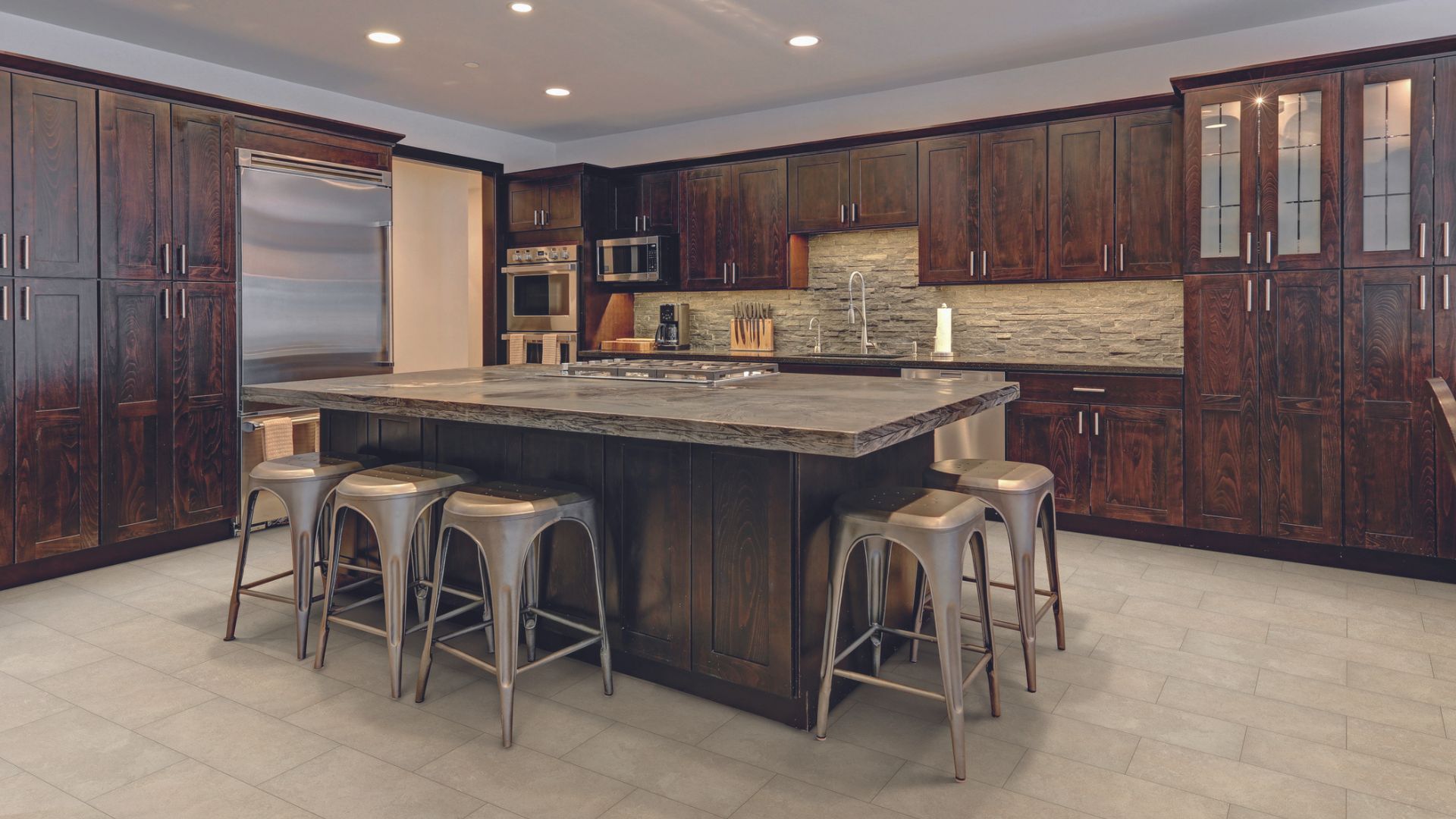 Elevate your Kennewick, WA, home with Rawlings Flooring America's exquisite tile flooring. Our showroom offers extensive tile samples featuring diverse colors, patterns, and textures for indoor and outdoor applications.
Enhance your kitchen and bathroom with ceramic or porcelain tiles in lighter hues, or add rustic charm with a stone patio walkway. Our experts in Kennewick are ready to guide you with consultations, custom measurements, and professional installation.
Tile flooring offers timeless beauty, durability, and vibrant aesthetics. These high-quality options ensure a long-lasting investment backed by our nationwide network of 500 stores. Rawlings Flooring America is the premier choice for Kennewick, WA, offering top-tier products at competitive prices.
The Many Reasons Why You Should Choose Tile
Tile flooring offers many benefits, making it an excellent choice for enhancing your Kennewick, WA space. Here are some key advantages:
Timeless Beauty: Tile comes in a wide range of colors, patterns, and textures, allowing you to achieve a customized and aesthetically pleasing look that stands the test of time.
Exceptional Durability: Ceramic and porcelain tiles are renowned for their durability. They resist wear, stains, and scratches, making them ideal for high-traffic areas in your home or office.
Ease of Maintenance: The tile is incredibly easy to clean and maintain. Regular sweeping and mopping keep it looking pristine and spills wipe away effortlessly.
Hygienic: Tile is inherently resistant to allergens, mold, and bacteria, promoting a healthier indoor environment. It's an excellent choice for kitchens and bathrooms.
Versatility: Tile's versatility extends beyond interior spaces. It's also a fantastic choice for outdoor patios, walkways, and pool areas, enhancing your property's overall functionality and aesthetics.
Longevity: When installed and cared for correctly, tile flooring can retain its vibrant appearance for decades, providing enduring value for your investment.
Cost-Effective: With its nationwide network and high-quality partnerships, Rawlings Flooring America offers competitive prices without compromising quality.
In Kennewick, WA, where style, durability, and value are paramount, tile flooring from Rawlings Flooring America offers the ideal solution for creating beautiful, long-lasting spaces.
Types of Tile
At Rawlings Flooring America, we offer diverse tile options to suit every taste and project. Our expansive showroom showcases the following types of tiles:
Ceramic Tiles: Ceramic tiles are a timeless choice known for their versatility and durability. They are available in various colors and patterns, making them suitable for traditional and modern design schemes. These tiles are an excellent option for areas that see moisture, such as bathrooms and kitchens.
Porcelain Tiles: Porcelain tiles are celebrated for their exceptional durability and resistance to wear and tear. They come in various styles and finishes, including polished and matte, offering a sleek and contemporary look. Porcelain tiles are perfect for high-traffic areas and can be used indoors or outdoors.
Natural Stone Tiles: For a touch of natural elegance, our store offers a range of natural stone tiles, including marble, granite, travertine, and slate. Each type boasts unique colors and textures, creating a distinctive and luxurious appearance. Natural stone tiles are an exquisite choice for adding sophistication to any space.
Wood-Look Tiles: If you desire the warmth and charm of hardwood flooring but prefer the durability of tile, explore our wood-look tiles. These tiles authentically mimic the appearance of wood while offering the strength and easy maintenance of ceramic or porcelain. They are an excellent choice for achieving a rustic or contemporary wood aesthetic.
Visit our Kennewick showroom to explore these tile options firsthand and receive expert guidance from our design team. Whether you envision a classic look with ceramic, contemporary chic with porcelain, timeless elegance with natural stone, or the charm of wood without maintenance, Rawlings Flooring America has the perfect tile solution for your project.
Elevate Your Space with Custom Tile Creations
Our team collaborates closely with you to turn your vision into reality. We stay up-to-date with the latest flooring trends, ensuring your custom project incorporates elements like large format tiles, book matching, and the sought-after aesthetics of marble and limestone. With Rawlings Flooring America, your custom tile project becomes a masterpiece that complements your unique style and enhances the beauty of your space. Learn more about our custom projects:
Backsplashes: Enhance your kitchen or bathroom with unique tile backsplashes. Choose from various colors, patterns, and materials to create a personalized and functional focal point.
Custom Showers: Elevate your daily routine with a custom shower design. Select from luxurious tile options, such as large format tiles or marble looks, for a spa-like experience.
Fireplace Surrounds: Transform your fireplace into a stunning centerpiece. Opt for book-matching tiles for a seamless and eye-catching design.
Flooring: Customize your floors with an extensive range of tile options, including large format tiles that create a spacious and modern feel.
Custom Kitchen: Craft a one-of-a-kind kitchen with custom tile accents, backsplashes, and flooring that reflect your style and personality.
Heated Tile Flooring System: Experience unparalleled comfort with a heated tile flooring system. Say goodbye to cold floors and indulge in cozy warmth.
Patios and Outdoor Spaces: Extend your living space outdoors with patio tile installations. Choose from various designs, including the timeless look of marble and limestone, for an inviting and durable outdoor oasis.
Professional Tile Flooring Installation
The next crucial step is professional installation after selecting your new tile flooring. While DIY installation is an option, it often leads to errors that can impact your floor's appearance and performance. At Rawlings Flooring America, we offer expert installation services performed by seasoned industry professionals, ensuring flawless results.
We understand that your time is valuable, and disruptions at home can be inconvenient. That's why we tailor our installation schedule to suit your needs, whether you enjoy a leisurely retirement or manage a bustling household.
Our expertise extends to various applications, including outdoor patios. Our skilled technicians carefully apply the right amount of premixed grout to your concrete slab using precision tools. With meticulous attention to detail, we position your chosen floor tiles to create a lasting, multidimensional masterpiece. Rest assured, our commitment to quality is reinforced by our Ultimate Confidence Guarantee, which includes a free re-installation within 30 days if you're not completely satisfied with the results. Choose us for a worry-free tile flooring installation experience.
Contact us today to begin planning your next flooring upgrade! We proudly serve customers in Kennewick, Pasco, Richland, and surrounding areas.