Hardwood Flooring in Kennewick, WA
Are you searching for the perfect flooring solution that combines natural beauty and sophistication? Look no further than Rawlings Flooring America in Kennewick, WA. We take pride in offering an extensive selection of premium hardwood flooring options to homeowners in our community. Whether you have a specific design in mind or need inspiration, our dedicated design professionals are here to assist you every step of the way. From selecting the right color and wood type to customizations and professional installation, we are committed to helping you achieve the flooring of your dreams. Visit our showroom in Kennewick, Washington, today, and let's start transforming your space!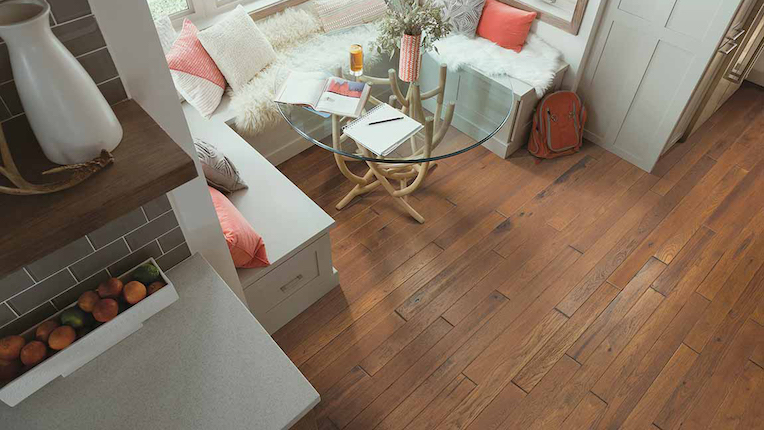 Choose Between Solid and Engineered Hardwood Options
At Rawlings Flooring America, we offer a wide range of hardwood planks, allowing you to choose the species, style, and durability level that suits your lifestyle and design preferences. Consider the following options:
Solid Hardwood: Ideal for those seeking an authentic, classic wood look. Each plank is made from a single piece of genuine hardwood, offering exceptional durability and longevity.
Engineered Hardwood: This option combines the beauty of hardwood with enhanced stability. Engineered hardwood is constructed from multiple layers of cross-cut boards, providing a stronger surface. It performs particularly well in areas of the home that are prone to moisture, making it a suitable choice for bathrooms and kitchens.
Offering Custom Hardwood Flooring Designs: Unleash Your Creativity
If you have a specific vision for your hardwood floors, Rawlings Flooring America is here to bring it to life. While our showroom features an extensive selection of hardwood options, we also offer custom design services for clients who desire a truly unique and personalized floor. With our expertise, you can choose from a range of custom features, including plank width, length, wood grade, botanical species, color, and washes.
For a distinctive and timeless effect, consider Chevron or Herringbone hardwood floors. These patterns, with their alternating, zig-zag style, have been appreciated since ancient civilizations and continue to gain popularity today. Additionally, you can select a 3mm, 4mm, or 5mm wear layer for your wood planks, and add texture with a light, medium, or heavy wire brush finish, along with saw and chatter marks. When you collaborate with our design team, the possibilities are endless for creating your perfect hardwood floor.
Benefits of Hardwood Flooring: Enhancing Beauty and Value

Discover the numerous benefits of hardwood flooring by visiting our inclusive showroom. With our nationwide 500-store buying power, we are able to source materials from industry-leading hardwood brands such as Wonky, Cascade, and Baroque, offering you both quality and savings. Here are some advantages of choosing hardwood floors for your Kennewick, WA, home:
Increases Property Value: Hardwood flooring is a timeless investment that adds value to your property.
Timeless Appeal and Versatile Design: Hardwood floors provide a classic and elegant look that complements any interior style.
Long-lasting Durability: With proper maintenance and care, hardwood floors can withstand the test of time.
High-Traffic Performance: Hardwood is a durable choice that performs exceptionally well in high-traffic areas.
Eco-Friendly: As a natural flooring material, hardwood is a sustainable and environmentally friendly option.
Easy Hardwood Maintenance for Long-lasting Beauty
One of the significant advantages of hardwood floors is their low-maintenance upkeep. With our high-quality hardwood flooring brands, your floors are crafted to last a lifetime. Here are some simple care tips to keep your hardwood floors looking their best:
Regular Sweeping: Prevent dirt and debris buildup by sweeping your hardwood floors regularly.
Dry Mopping: For heavier messes, use a wood floor cleaner and dry mop to maintain cleanliness.
Wipe Spills Immediately: Accidental spills should be promptly wiped up with a damp cloth.
Wood Polish: To enhance the shine of your wood floors, consider using a wood polish for periodic sprucing.
Consultation and Warranty: Our team is always ready to provide product recommendations for polishes and cleaning agents that are within warranty.
Professional Hardwood Installation Services: Trust the Experts
Proper installation is crucial to ensuring your brand-new hardwood floors last a lifetime. At Rawlings Flooring America, we take pride in our outstanding installation crew, equipped with years of industry knowledge and expertise. Rest assured that your floors will be fitted to the highest industry standards. We also offer our Ultimate Confidence Guarantee, which covers any installation-related issues. Should you encounter any problems with your new floors within 30 days, simply contact us, and we will fix or replace them at no additional cost to you.
Our installation team works efficiently and collaboratively with you to ensure that your flooring meets your demands and exceeds your expectations. Throughout the project, we keep you informed, ensuring everything stays on track and according to plan.
Contact Us Today for Premium Hardwood Flooring Solutions
Ready to enhance the beauty of your home or office with premium hardwood flooring? Contact Rawlings Flooring America today to learn more about our wide range of products and services. We proudly serve customers in Kennewick, Richland, Pasco, Burbank, Prosser, Walla Walla, and Yakima, WA. Let us be your trusted partner in creating the perfect hardwood flooring solution for your space.