Enjoy the Benefits of a Warm, New Carpet
With new carpeting from Rawlings Flooring America in Kennewick, WA, you can say goodbye to outdated floors and begin your dream remodel. When it comes to home décor and flooring products, our local store has something for everyone's tastes. Enjoy the warmth and comfort of a new carpet floor while giving your home a modern facelift. With national 500-store buying power, our Kennewick location has access to top-quality carpeting manufacturers. With a selection from our collection, you can update your bedroom or create a safe and comfortable play environment for your child and pets.
Our carpeting options come in a variety of patterns, textures, and colors, and are built to last. Compare our carpets to identical products from designer retailers and you'll find the best prices at Rawlings Flooring America, whether you prefer the casual, velvety style of Berber or the diverse patterns of cut-loop carpets. Visit our sprawling showroom where you can explore samples and work with our knowledgeable in-store staff at any time. We provide a full range of services, from free consultations through measurements, estimates, and even professional carpet installation.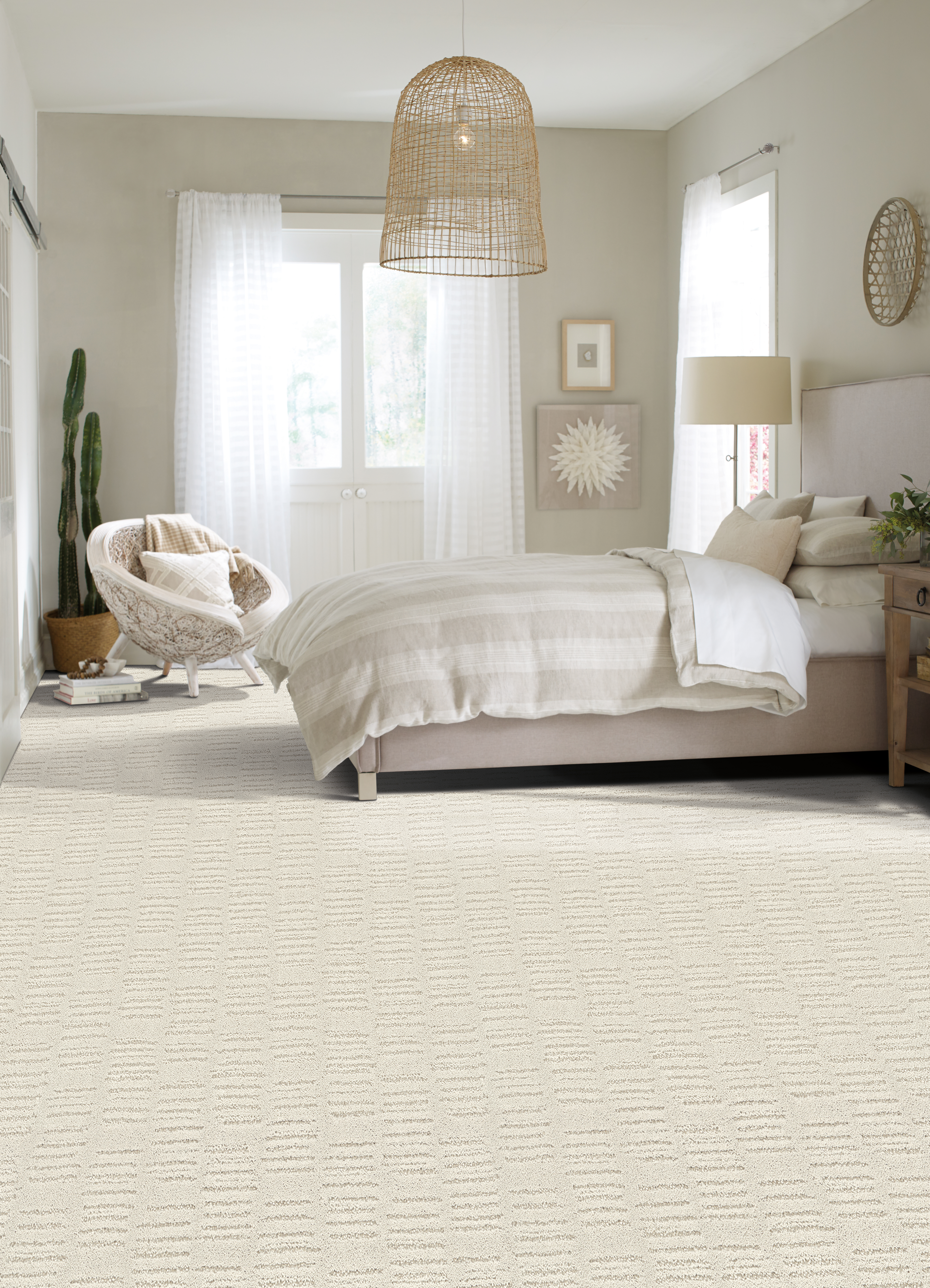 Shop a Diverse Carpeting Selection
We are delighted to offer a large assortment of carpet options at our local store to fulfill the needs of all our customers. Explore our collection to uncover a selection of materials, including nylon, polyester, olefin, and triexta. Sift through our inventory and find the ideal fit for your room. Beyond the pure comfort of stepping into a carpeted room, there are numerous carpet advantages. With waterproof carpet qualities integrated into the fibers, our flooring is pet and family-friendly. While most carpeting absorbs spills quickly, our products resist water naturally, allowing you to clean the surface before damaging seepage occurs. Peruse our online catalog and explore the following quality brand names:
Design Distinctions
Hearth & Home
Tigressa
Resista
Innovia
Gibraltar
Patterns Unlimited
Core Elements
Carpet Types from Frieze to Berber Explained
Let us assist you in discovering the various benefits of carpet that make it a perfect choice for your home. Our carpet options include non-slip features and allergy-resistant surfaces. A new carpet can hide uneven subfloors and breathe fresh life into your living room, bedroom, or study for homeowners who live in historic homes. We carry beiges and neutrals for a tranquil design that is easy to match with existing décor. Additionally, we also offer eye-popping colors such as deep burgundy or pale blue for those hoping to see a splash of color at home.
Fiber type, pile height, face weight, gauge, twist level, tuft tie, density, and stitch rate can all affect the carpet's durability and performance. We always recommend contacting our specialists as you plan to acquire a new carpet. We are pleased to offer the following carpeting types at our Kennewick location:
Frieze Carpet
Frieze carpeting is made of a cut-pile construction and is exceptionally plush. Frieze's long-lasting curling fibers are well-known for their ability to camouflage dirt. With a knotted appearance, frieze can add a textured style that gives character to any room while blending colors and patterns.
Loop & Loop Cut Carpet
The surface of loop carpeting is constructed with uncut loop fibers. A level-loop carpet style comes woven or tufted, with a same-height loop surface. A multi-loop carpet has two or three different pile heights in each loop. These carpets have a casual style that can prevent foot imprints from appearing. Cut-loop carpeting, on the other hand, is designed exactly as it sounds. The loop fibers have been cut straight with this product, resulting in a snag-free consistency that is popular among individuals who have children, dogs, and cats.
Patterned Carpet
Patterned carpets are made using the same methods as printing paper. Flatbed screen printing, rotary screen printing, Stalwart printing, and sophisticated computer-programmed jet printing are some of the design processes used. Contemporary style guides and 5-star hotels are known to flaunt the beautiful patterns that can be achieved with this carpeting type.
Saxony & Textured Saxony Carpet
Saxony carpets are cut-pile carpets that can add a touch of luxury to any room in your home. Saxony Type patterns are resistant to wear, shading, and traffic marks in your home. Textured Saxony uses the same fiber types, though they've been twisted in different directions to offer a coarser appearance.
Berber Carpet
When describing Berber, the term generally is associated with lighter carpeting hues that have been flecked with darker colors. Berber's natural strength and soil hiding capabilities make it a go-to floor for active areas in the home. Often crafted with a loop-style cut, this product is a popular selection among consumers.
A Cleaning Regiment to Keep your Carpet Pristine
One of the many reasons people love our carpets is how easy the cleaning process can be. Give your carpet the attention it needs, and your floor will remain vibrant for years. We recommend that our customers vacuum their carpets once a week and schedule professional cleanings annually to eliminate any stains that may have developed. We recognize that messes are unavoidable in most homes. Accidental spills can be cleaned up with a moist cloth and soap or a light carpet cleaning solution. Before buying any cleaning products that include harsh chemicals, such as bleach, double-check your warranty. We are always happy to provide cleaning product recommendations at the time of purchase.
Professional Installation Available at Rawlings Flooring America
Before attempting a DIY carpet installation, consider hiring one of our experienced technicians. Inexperienced carpet installation can result in mistakes or substandard craftsmanship. Our team consists of well-trained and experienced professionals that are dedicated to completing your home renovation project. All our carpeting selections are covered by our Ultimate Confidence Guarantee.
Contact us today to get started with a free, no-obligation consultation. We proudly serve clients in Kennewick, Pasco, Richland, and surrounding areas.